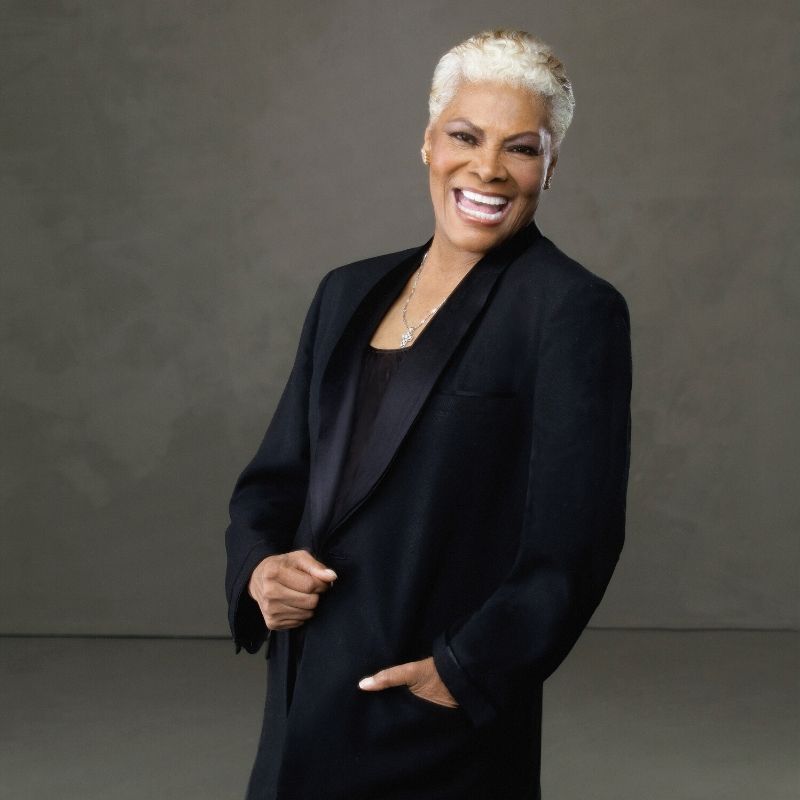 For Dionne Warwick, Christmas is more than a holiday or even a season — it's a spirit that brings out the best in people. So why not, she reasons, can't that feeling of good will toward mankind extend to our everyday lives and interactions?
"People smile, say hello, open doors for you, carry packages, just flat-out seem to put madness aside," said the six-time Grammy Award-winner ahead of her holiday show at Fantasy Springs on Saturday, December 21st. "I have said and continue to say I wish it could be Christmas every day, and of course the celebration of the birth of Jesus is the most important part of this day!"
In a career that has spanned six decades, Warwick has charted more than 75 songs and sold over 100 million records. The New Jersey native was discovered by legendary songwriters Burt Bacharach and Hal David in 1961, and went on to record 18 consecutive Top 100 singles, including "Don't Make Me Over," "Walk on By," "Say A Little Prayer," "Alfie," and "Do You Know the Way to San Jose."
Backed by a 14-piece string section, Dionne Warwick — A Holiday Celebration features a mix of Christmas and pop classics, including "Silent Night," "Silver Bells," "The Most Wonderful Time of the Year," "Joy to the World," and "My Favorite Things." The singer talked about the show and her legendary career in a recent interview.
QUESTION: How did your family's gospel upbringing shape you as an artist?
WARWICK: It gave me the understanding of a lyric. Gospel is literally a way of singing the words in the Bible through song. King David, the master poet, wrote beautiful words that eventually were put to music.
QUESTION: You came to Burt Bacharach's attention while recording "Mexican Divorce" with The Drifters. What do you recall from that initial meeting, and did you have any inclination of the future success you'd have as collaborators?
WARWICK: Burt approached me after the session was through and asked if I would be interested in doing some demonstration records of songs he'd be writing with Hal David. I don't think either of us ever thought of the kind of success we would have. We were so different musically from any other music of the time.
QUESTION: Your string of hits from the mid-'60s to the early-'70s — including "Walk On By," "I Just Don't Know What to Do With Myself," and "Do You Know the Way to San Jose?" — made you a global star. Tell us about that experience.
WARWICK: To be able to bring smiles and joy to people worldwide is quite enthralling, and knowing this was what was happening is still quite amazing.
QUESTION: You recently made some comments about being displeased with British vocalist Cilia Black's covers of "Anyone Who Had A Heart" and other songs you recorded first. What was it that irked you?
WARWICK: It wasn't really her fault, as her management literally heard me sing the song at the Olympia Theater in Paris, and as was being done especially in the UK at this time, the covering of American artist recordings, my recording of "Any One Who Had A Heart" was not given a chance to be heard. But, that's show biz.
QUESTION: Your career flourished again in 1979 with the release of "I'll Never Love This Way Again," produced by longtime Palm Springs resident Barry Manilow. Tell us about that collaboration and your friendship with him.
WARWICK: Barry is a brilliant musician and recording artist that I am proud to call a friend. He was joy to work with.
QUESTION: In 1985, you recorded the benefit single "That's What Friends Are For" with friends Gladys Knight, Stevie Wonder and Elton John, for AIDS research. What motivated you and did you expect it to become such a massive hit?
WARWICK: The song rings of hope, joy, and love of people generally, and it was wonderful to know how it was able to raise awareness to the disease running rampant at the time called AIDS. Gladys, Stevie, Elton and I all felt if our voices would be able to make a difference, we were all obliged to do so.
QUESTION: You were obviously very close with your cousin, Whitney Houston. What is the one thing you miss most about her?
WARWICK: Simply HER!
QUESTION: You've recorded several Christmas albums, the most recent of which was released this fall. What is about the holiday season that inspires you to express yourself musically?
WARWICK: I've only done two Christmas CDs, "The Voices of Christmas" being the second one. Christmas is my most favorite time of the year. It seems to be a time that the human qualities come out of people.
Tickets for Dionne Warwick — A Holiday Celebration are $39, $49, and $69, available at the Fantasy Springs Box Office, via phone (800) 827-2946 and online at www.FantasySpringsResort.com.