Wild West Wednesdays is moving to Tuesdays as Boot Stompin' Tuesdays starting October 3.
Grab your boots and cowboy hat and mosey on down to LIT Lounge from 6:30 p.m. – 11 p.m for Wild West Wednesdays. The lively evenings are hosted by Big John Miller and KPLM The Big 106-FM.
Start off the night with free, fun and interactive line dance lessons hosted by your "HomeTown Country Dancers" at 6:30 p.m. and two-step the night away to Country hits performed by a live band. Great drink specials and prizes are always featured. Must be 21 to attend.
Wild West Wednesdays Lineup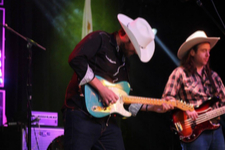 JB & The Big Circle Riders